The holiday season is the perfect time to express love and appreciation through thoughtful, personalized gifts. Enter the enchanting world of laser engraving, a magical technique that transforms ordinary items into cherished mementos. Here's a curated list of personalized holiday gift ideas that capture the essence of laser engraving:
5 Personalized Holiday Gift Ideas
1. Engraved Water Bottles:
Give the gift of hydration with a touch of personalization. Engrave a name, a special date, or a meaningful message on a sleek water bottle, creating a practical and sentimental present that will be used every day.
2. Engraved Photo Frames:
Frame precious memories with a personalized touch. Laser engrave a heartfelt message, a significant date, or the names of those in the photo onto a beautifully crafted frame, turning a simple picture into a cherished keepsake.
3. Engraved Jewelry:
Elevate the elegance of jewelry by adding a personal touch. Whether it's a pendant, bracelet, or ring, laser engraving allows you to inscribe initials, a special date, or a short message, creating a one-of-a-kind accessory with sentimental value.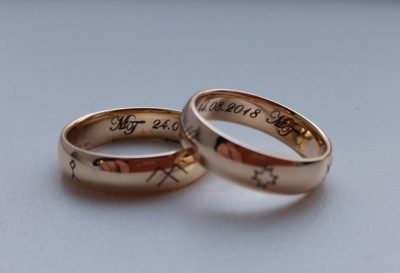 4. Engraved Keychains:
Transform a functional item into a memorable accessory. Laser engrave a keychain with a name, a special word, or a small design, making it a daily reminder of the thoughtful gesture and the connection you share.
5. Engraved Wine Tool Set:
Elevate the wine lover's experience with a personalized wine tool set. Engrave names, a monogram, or a special message on the tools or the box, adding a touch of sophistication to every wine-related celebration.
Why Choose Superior Laser Marking
Now that you're inspired to gift personalized treasures, the choice of a laser engraving service is paramount. Superior Laser Marking stands out as a leading provider for a myriad of reasons:
1. Precision and Detail:
Superior Laser Marking employs cutting-edge technology to ensure precision and intricate detailing in every engraving. From delicate jewelry to robust metal items, our equipment captures the essence of your personalized message with utmost accuracy.
2. Versatility of Materials:
One size does not fit all, and Superior Laser Marking understands that. We offer engraving services on a wide range of materials, including metal, wood, glass, and more. This versatility allows you to choose the perfect material for your personalized gift.
3. Customization Options:
Your vision is our priority. Superior Laser Marking offers a range of customization options, from font styles to graphics, ensuring that your engraved gifts are a true reflection of your sentiments and the recipient's personality.
4. Timely Delivery:
Time is of the essence, especially during the holiday season. Superior Laser Marking is committed to delivering high-quality engraved gifts within a reasonable timeframe, ensuring your presents are ready to spread joy during festive celebrations.
5. Exceptional Customer Service:
The team at Superior Laser Marking is dedicated to customer satisfaction. Our friendly and knowledgeable staff is ready to assist you at every step, from selecting the right item to ensuring your engraving meets your expectations.
Choose Superior Lasermarking Shop for your next engraved corporate gift for summer holidays and make it truly one-of-a-kind.
In conclusion, personalized holiday gifts engraved with precision and care hold a unique charm. Choosing Superior Laser Marking ensures that your gifts not only shine with personalized brilliance but also reflect the commitment to quality and excellence that defines the holiday spirit. Embrace the magic of laser engraving and gift unforgettable memories this holiday season.